What we eat and how it's produced have significant impact on the environment. According to World Wildlife Fund, 30% of greenhouse gas emissions are caused by our global food systems. Turning to a more eco-friendly and sustainable diet is good to our health as well as the earth. It's never too late to get started. It's much easier than what you think!
Eat more plant-based
Animal-based protein sources (meat, dairy, and egg production) are responsible for more greenhouse gas emissions, water consumption, and land use than plant production. WFPB (whole food plant-based dishes), instead, are more eco-friendly and also packed with nutrients and antioxidants that help support our immune system and protect us from chronic diseases such as diabetes and heart illness. Swap out usual meat with plant-based protein like tofu, nuts and beans a few times a week could help improve our health – and also the planet.
Included in the list of Future 50 Foods selected by World Wildlife Fund are 13 cereals, grains and tubers; 12 beans, legumes and sprouts; 18 vegetables; 3 mushrooms; and 4 nuts and seeds from across the world. The list is developed with an aim for healthier people and a healthier planet by driving three dietary shifts:
To increase intake of vitamins, minerals and antioxidants with a greater variety of vegetables
To replace meat, poultry and fish with plant-based sources of protein in order to reduce the negative impact on the environment
To promote agrobiodiversity and provide more nutrients with more nutrient-rich sources of carbohydrates
Use local and sustainable ingredients
The more local your food is, the fewer greenhouse gases are released during its transportation. Buying local ingredients, and in season, helps support your local farmers and food producers. Also, the food is often tastier and fresher. See when and where to find a farmers' market in Oxfordshire from our guide.
World Wildlife Fund also recommends searching for sustainably sourced logos like Fairtrade, which protects farmers and workers in developing countries and ensures environmental criteria, such as responsible water use and minimal pesticide use, are met; MSC – Marine Stewardship Council and its logo means the fishery is part of a pledge to prevent overfishing; and ASC – Aquaculture Stewardship Council scheme that promotes responsible and sustainable farmed fishing.
Cut back on food waste
Know your serving and prepare the amount needed. Making too much can create a ton of waste. All this wasted food will get buried in the landfill, where it will release methane, one of the top contributors to climate change.
In fact, there are many ways to use your leftover and surplus food. Different food saving recipes are available from Love food Hate Waste. Or read another article to learn more about how to reduce food waste.
Say bye to disposable containers and cutlery
Plastic waste is a huge problem, with microplastics polluting almost every corner of the world. Even paper plates create unnecessary waste. Shift to reusable utensils made of bamboo or stainless steel and glass containers. They are more durable, easier to clean, and safer for the environment and health.
Eco-friendly recipes — easy to make and ready to serve from morning till night!
Make a change of your eating habit in the new year and try these eco-friendly recipes. They are good for you – and the planet!
1. Banana oatmeal pancakes
They are a healthy alternative to the traditional pancakes which are made of a huge dose of refined sugar and flour, milk and butter. These banana pancakes are made mainly of oats, using no flour! This makes them whole grain and gluten-free. They are easy to make. All you need is a blender.
Click to get the recipe from a couple cooks.
2. Tofu scramble
If you look for something savoury for breakfast, you may try this scrambled "egg" made from firm tofu. It is cholesterol-free, low in fat and high in protein. It's easy to make, ready in 15 minutes and using only four ingredients – tofu, turmeric powder, salt and ground black pepper.
Click to get the recipe from simple vegan blog.
3. Kale, mung bean and quinoa salad
Pulses, including beans, lentils and peas, are a low carbon footprint food. Farmers only have to add little or no nitrogen fertilizer. Also, pulses use half to one-third of the water it takes to produce other protein sources.
This recipe uses colourful and healthy ingredients. A good choice if you look for salad ideas for lunch.
Click to get the recipe from Shahzadi Devje.
4. Carrot and chickpea burgers
These veg-filled burgers offer a sweet and yummy twist. They are easy to make. Even kids can do it.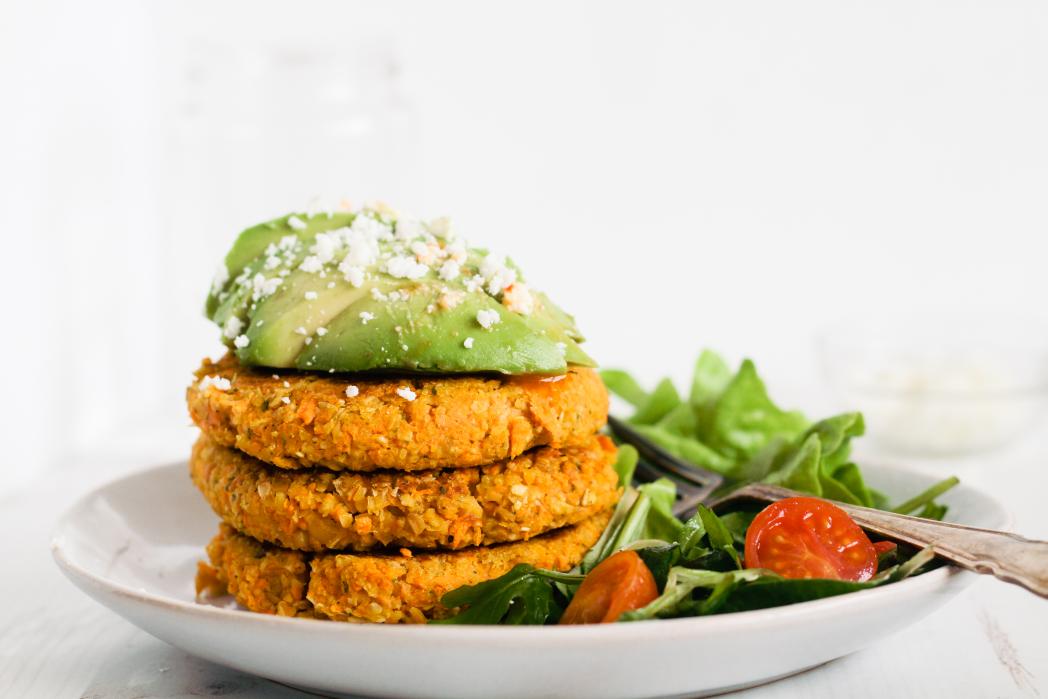 Click to get the recipe from World Wildlife Fund.
5. Pak-choi curry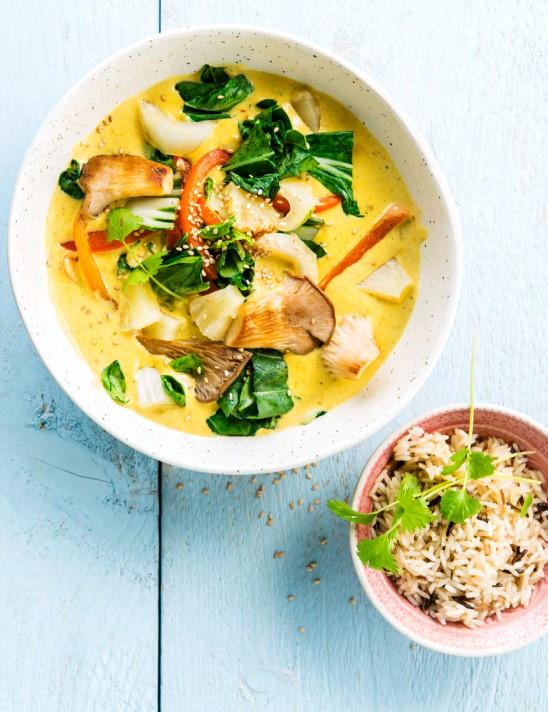 In addition to the vegetables suggested including pepper, pak-choi and mushrooms, you may add others you like zucchini, cauliflower and onion. It's good to serve with rice or bread for lunch or dinner.
Click to get the recipe from World Wildlife Fund.
6. Vegetable chow mien
Another easy-to-make dish – a stir-fry mixed with a variety of vegetables and slices of leftover meat.
Click to get the recipe from The Spruce Eats.
7. Chocolate chia seed pudding
This could be a good choice of dessert. But you need more time to prepare as it needs to be refrigerated overnight or at least 3-5 hours for a pudding-like texture.
Click to get the recipe from Minimalist Baker.
8. No-bake chocolate cookies
These vegan, gluten-free cookies take just 10 minutes to make. But again, you need to leave them in a fridge – much shorter this time – for around an hour before serving.
Click to get the recipe from Beauty Bites.
Becoming more sustainable does not have to be an all-or-nothing approach. Each of us do a few things, and together, we can make a big difference. Implement some of the above eco-friendly ideas. They could improve your health and support the environment.