Mark your calendars – 3rd March is World Wildlife Day! 
World Wildlife Day is a United Nations International day to celebrate the wildlife and nature, which we rely on to meet our needs for food, fuel, medicines, housing, clothing, regulate our mood and improve our mental well-being.  Get prepared to celebrate the wild animals and plants and their contribution to our lives and the planet on World Wildlife Day this 2023.
This year is special – 3rd March 2023 marks the golden anniversary of the Convention on International Trade in Endangered Species of Wild Fauna and Flora. The agreement was signed 50 years ago, but there are still many things that should be done to reverse the loss in biodiversity and to save our planet!
Green Spaces in Oxford to Visit on World Wildlife Day
Oxford is well known for its historic sites and magnificent architecture.  But as well as these virtues, there are also many beautiful and natural green spaces in this city of dreaming spires.  Here are a few around the city centre that you can visit on this mindful day.
Rose Lane, Oxford OX1 4AZ
Founded in 1621, The Oxford Botanic Gardens are the oldest botanic gardens in the UK and home to over 5,000 different types of plants, flora and fauna from all over the world. A range of climatic conditions are created in the garden's seven display glasshouses to cultivate plants from around the world. They include the world's largest water lilies, carnivorous plants, desert cacti and alpine flora. The gardens are just 10 minutes' walk from central Oxford and are a national treasure. 
Owned by the Botanic Garden, Harcourt Arboretum is also a place of natural beauty but much bigger in size, with an area of over 130 acres. About 20 minutes' drive from Botanic Garden, the arboretum grows trees for which the garden is too small or the soil too alkaline. They include some of the oldest redwoods in the UK and a collection of rare and endangered trees from around the world.  
It is free for students and staff of Oxford University and Oxford Brookes to visit the Botanic Garden and Harcourt Arboretum.  Otherwise, you need to pay £6.30 for each. 
Looking for FREE and easily accessible green spaces? Here are more options!
S Park Rd, Oxford OX1 3RF
Just behind the Natural History Museum is a huge open area for sports and recreation – Oxford University Parks.  The park was originally owned by Merton College and purchased by the University of Oxford in the 1850s.  Now there are gardens and large sports fields.  The park is open to the public round the year except Christmas Eve.
Walton Well Rd, Oxford OX2 6ED
Port Meadow is an ancient meadowland situated in north Oxford, running from Jericho to Wolvercote. The River Thames flows through the heart of this large area of grazing land, which is still used for horses and cattle today.
Elsfield Way, Oxford OX2 8NP
Measuring 42 hectares, this is the largest park in Oxford, split with the old Cutteslowe Park to the north and Sunnymead Park to the South. It has a semi-natural wildlife and community woodland for the public to enjoy. In addition, there are a number of play areas, with the mini rail being one of the most popular spots among children. A variety of sports courts including a mini golf course can also be found.
94 Cornwallis Rd, Oxford OX4 3PW
Located in East Oxford, Florence Park is just five minutes' walk from Cowley Road and Templare Square. It is a stunning park with beautiful flowerbeds and a tree avenue. Its natural features have been able to attract many species of pollinators, mammals and birds. There are also several tennis courts and a mini golf course as well as a few play areas designed for children including a sandpit.
178 London Rd, Headington, Oxford OX3 9ED
Bury Knowle Park is another Green Flag-awarded park in Oxford. In addition to play areas, sports grounds and green spaces commonly found in other parks, Bury Knowle Park is unique with its artistic sculptures and being home to a local library. With an area of about 7 hectares, it is located off London Road in Headington.
Hidden Gems in Green and Wild Oxford
While all the above parks and meadows are well-established and managed, and are familiar to locals and even visitors, there are actually some less explored hidden gems in wild Oxford that can bring you some unusual wildlife sightings. If you are looking for something different and wilder, below are some of our suggestions.
5 Lewis CI, Headington, Oxford OX3 8JD
The woodland and pond used to belong to celebrated Oxford author CS Lewis, who was said to have enjoyed wandering in this 3-hectare area while writing his children's book series, Narnia, including The Lion, the Witch and the Wardrobe. 
While the woodland has a canopy of beech, oak, birch, alder, ash and hawthorn, the pond is full of aquatic plants. Moorhens and coots regularly nest in this reserve, where is full of birdsong in spring, and many dragonflies and damselflies can be found in summer.
3.5 miles north-east of Oxford
Oxford OX3 9TY

The diversity of this 22-hectare nature reserve near Barton is quite staggering. It supports over 400 plant species while also teeming with birds and insect life. Butterflies include the purple hairstreak, brown hairstreak, common blue and marbled white.
Old Rd, Headington OX3 8TA
This is another Headington gem. Ancient woods, flowery meadows, marshes, heaths, ponds and bracken covered slopes support a wealth of wildlife. Watch out! You'll be able to spot blackbirds, wrens and song thrushes, along with white admiral butterflies and green woodpeckers, among plenty of other creatures such as foxes, muntjacs and roe deer.
1.5 miles south of city center
Oxford OX4 4BL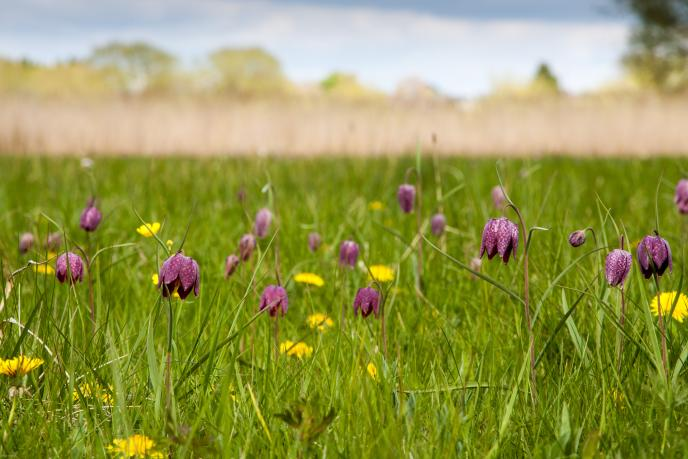 These wet meadows on the banks of the Thames have a rich diversity of wildlife. The sight of thousands of purple and white chequered snake's-head fritillaries in flower at the 33-hectare meadows each spring makes it an unmissable site. 
With the longer daylight and warmer weather, it's definitely a good timing to go out and find what's going on in Oxford's parks and green spaces. Let's celebrate Wildlife Day and enjoy the wild places in the city!
Meanwhile, you can explore other aspects of the city from another article to find the Best places to go and things to see in Oxford.