Let celebration continue. After the Easter holidays, it's the World Art Day the following Saturday. World Art Day is celebrated every year on 15th April – a day to promote art and encourage people to take time to appreciate the beautiful things around.
What is World Art Day?
Declared by International Association of Art (IAA), a partner of UNESCO, World Art Day was celebrated the first time in 2012. The date, 15th of April, was chosen to honour the birthday of Leonardo da Vinci, who is regarded as a symbol of peace, freedom of expression and brotherhood.
The first World Art Day was reportedly supported by 150 artists from different countries – to ensure inclusion. There were special events including conferences and outdoor exhibitions.
How to celebrate World Art Day?
Different cultures, with different tastes and styles, may have their own definitions of art, which is not necessarily something serious and technical. It could be simply an appreciation of beauty, an experience of the world, or expression of emotion. You can definitely have your own choice of celebration!
Create an art on World Art Day
We all could be an artist. We are a uniquely imaginative species with the ability to conceive complex and abstract ideas. It's our fantastic natural gift. Let's use our imagination to enrich our everyday life. Simply pick up your pen and paper, and start to write or draw. Or have a day out to take pictures of the beautiful architecture and landscape around Oxford during this lovely spring time.
There are free online resources that can help you get started. Skillshare, for example, is an online platform with thousands of creative classes. It charges a membership of £90 a year but offers a 30-day free trial. We have selected three basic courses that are easy to start with.
In this 40-minute course, illustrator and graphic designer Samantha Baker will teach you how to make a daily sketch and have a unique record of your daily life. Click for details.
This is an introductory class for brush lettering, which could be beautiful, fun and relaxing.  Click for details.
These 90-minute video lessons will give you an introduction to the art of crocheting and take you step-by-step through the process of making dishcloths of three different patterns.  Click for details.
In case you don't have the tools to do any of the above, how about cooking? Cooking is an art and you have to be creative in your kitchen in order to make a nice and delicious dish.
There are mini lessons covering the basic cooking techniques and over 10,000 recipes for different cooking ideas at BBC Food.
"Cooking is like painting or writing a song. Just as there are only so many notes or colours, there are only so many flavours — it's how you combine them that sets you apart."

Wolfgang Puck, Austrian chef
Visit a museum or art gallery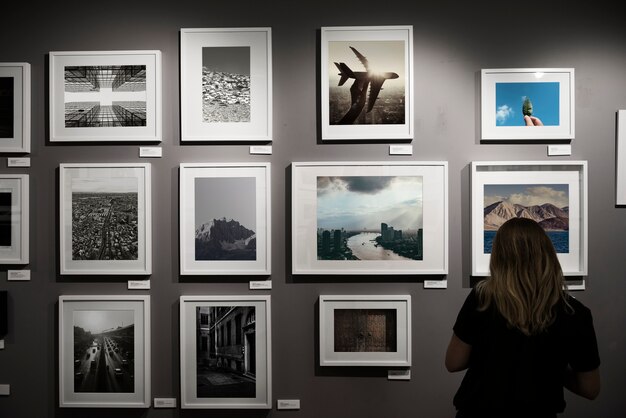 In case you are a bit laid back and would rather hang around with friends, why not visit a museum or art gallery. It could be inspiring. Oxford hosts many exhibitions at galleries and community centres, or even in coffee shops and colleges. Here are a few popular and easily accessible sites.
Ashmolean Museum
Beaumont Street, Oxford OX1 2PH
Ashmolean is the museum of art and archaeology of the University of Oxford, with collections ranging from Egyptian mummies to contemporary art. It opens every day and admission is free.
Christ Church Picture Gallery
Located within the walls of Christ Church
The drawings collection in the Picture Gallery at Christ Church includes work by the masters – Leonardo, Michelangelo, Dürer, Raphael and Rubens. These small in-house exhibitions are changed every three months to allow the public to see a varied selection from the collection.
The gallery opens from 11am to 5pm on Mondays, Thursdays, Fridays and Saturdays as well as 2pm to 5pm on Sundays, with an entrance fee of £6 for adults, but free for members of the University and National Art Pass holders.
Modern Art Oxford
30 Pembroke Street, Oxford OX1 1BP
It is a contemporary art space playing host to exhibitions, events and family activities. It opens from 10am to 5pm, from Tuesday to Saturday, and from 12pm to 5pm on Sundays.
Old Fire Station
40 George Street, Oxford OX1 2AQ
The Old Fire Station is a public multi-form arts centre that offers spaces for local artists to showcase their works. In addition to an arts centre, the building also hosts a charity Crisis, which aims to help end homelessness in Oxford.
The building opens at 9am on weekdays, while the gallery opens from 10am to 4pm, from Tuesday to Saturday. There is also a café running from 10am to 4pm, from Tuesday to Sunday.
The North Wall
South Parade, Oxford OX2 7JN
Based on the campus of St Edward's School, The North Wall art centre consists of a 200-seat theatre, an art gallery and studios for dance and drama, offering spaces for exhibitions, workshops and live performances. Some of the activities are open to the public free of charge.
Enjoy a show
Art can also be a performance – music, dance or theatre, or even a movie. Check the venues below and see what's on. There must be something you're interested in.
Oxford Playhouse
Beaumont Street, Oxford OX1 2LW
Oxford Playhouse and its Burton Taylor Studio present and produce a wide range of live performances including some British and international drama, family shows, contemporary dance and music, student and amateur shows, comedy and so on.
The Ultimate Picture Palace
Jeune Street, Cowley Road, Oxford OX4 1BN
A community-owned independent cinema, the UPP has its beautiful historic art deco building dated back to 1911 and still has its original box office window opened onto the street. The cinema itself is already an art of architecture.
Find out more about the story of the UPP from one of our previous articles: The Ultimate Picture Palace 2022: How Cinema is Bringing the Community Together in Oxford
Phoenix Picturehouse
57 Walton Street, Oxford OX2 6AE
Designed by a local architect, this arthouse is another historic, century old cinema still operating in Oxford. There are two screens and a bar upstairs.
People nowadays may be too busy to enjoy art. World Art Day, therefore, can serve as a yearly reminder for us to slow down and relax, and enjoy experiencing the world.