The pilot scheme of Britain's first Zero Emissions Zone started in Oxford on 28 February 2022. At present it covers just a small selection of streets in the city centre, but this is planned to expand if the pilot is a success.
Oxford has had a problem with high levels of traffic for a long time. These cause high levels of air pollution, so damaging people's health. The European Environment Agency (EEA) considers air pollution to be the main threat to environmental health: in 2016, almost half a million (452,000) premature deaths in Europe were caused by long-term exposure of citizens to high pollutant concentrations. The use of petrol and diesel powered vehicles also increases the emissions of carbon dioxide, pushing up Oxford's contribution to climate change. There are also associated hazards of noise and dangers to pedestrians.
The ZEZ will exclude all except fully electric vehicles – i.e. those with zero emissions – from the designated area, so reducing CO2 emissions and creating a safer environment for pedestrians.
The pilot forms part of an environmental improvement campaign that intends to introduce a workplace parking levy across the city, strategic traffic filters on half a dozen core entry points to the city, and finally a dramatic scaling up of the ZEZ by autumn 2023.
Where is the ZEZ?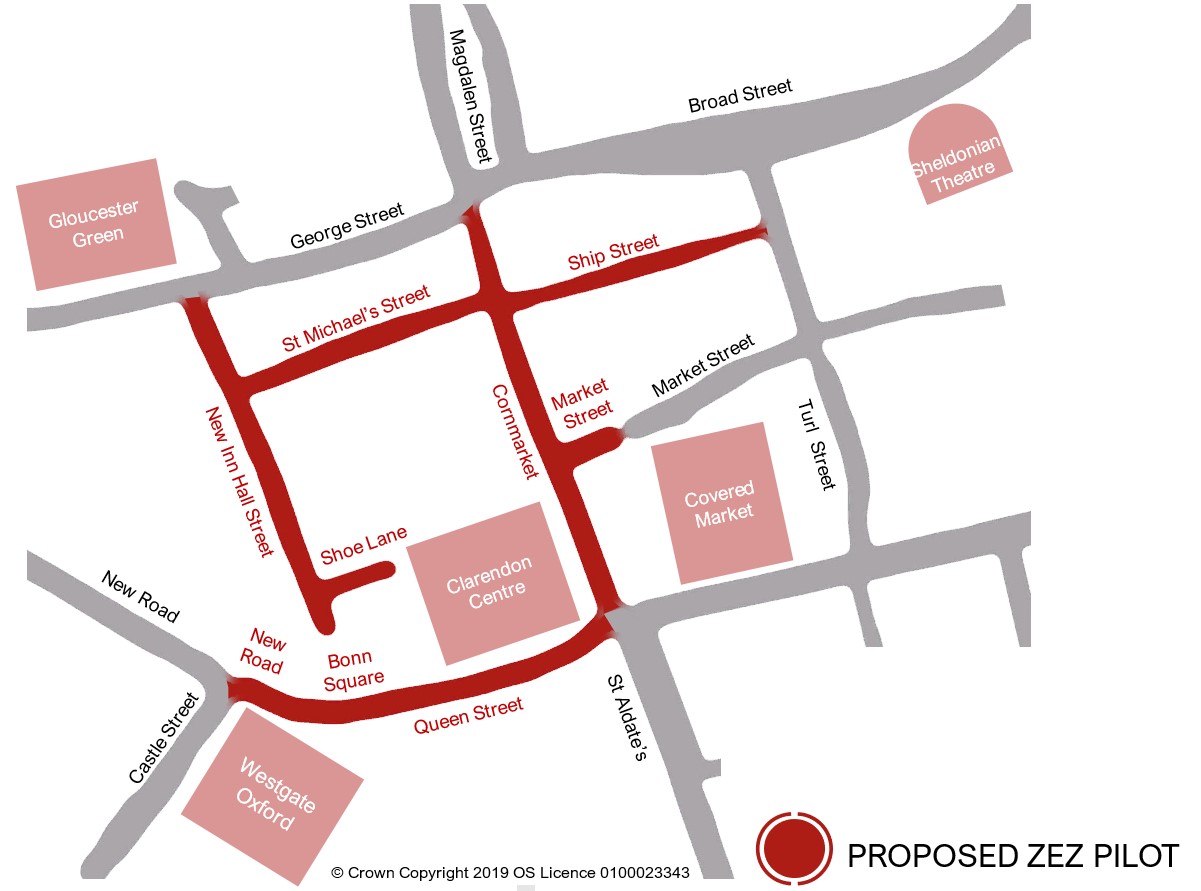 In the map above, the roads where the ZEZ applies are shown in red. In fact these city streets are mostly barred to cars anyway, so it probably won't affect a lot of people. However, this is only the pilot, and further steps are planned in the future. in February, City and County Councils announced sweeping changes that will roll across the city soon after the pilot, to try and tame Oxford's notorious gridlock and poor air quality. They announced their intention to implement a workplace parking levy across the city, strategic traffic filters on half a dozen core entry points to the city, and finally a dramatic scaling up of the ZEZ by autumn 2023.
Councillor Duncan Enright, Oxfordshire County Council's Cabinet Member for Travel and Development Strategy, said:
'Oxford has always been a leader in innovation and these new plans will help us move towards a zero-carbon transport system in the city, while making Oxford a safer, cleaner and better place for people who live and work here and for those who visit.'
Signposts will indicate the boundaries of the zone, and automatic number plate recognition cameras will enforce the scheme. Electric vehicles will be able to enter the zone, but others will be liable to a charge. Charges apply from 7am to 7pm, seven days a week, all year round. These vary with vehicle type, and emissions level, starting at £2 per day for Ultra-low emission vehicles (ULEV) to £10 per day for vehicles with no emission reductions. These charges are set to increase considerably in August 2025, when the scope of the ZEZ is set to increase.
If you enter the ZEZ and are not driving an electric vehicle you can pay the charge upfront, on the day or up to six days later. If you don't pay within this allotted time you will be liable for a fine or penalty charge notice (PCN). This will be £60, but if you pay within 14 days it will be reduced to £30. Payment can be made online, over the phone or by post.
Zero Emissions Zones in Europe
Many cities in Europe have introduced low or ultralow emissions zones in attempts to tackle problems with high levels of air pollution and congestion from traffic. Now the next step, a zero emissions zone, is being planned and introduced in no less than 35 cities, with a target of 2030 to be up and running.
Many of these are partial ZEZs, targeting heavy traffic such as lorries and vans but nine are to apply to all types of vehicles. These are Amsterdam, Helmond, Eindhoven, Bergen, Central London, Greater Paris, Oxford, Copenhagen and Oslo. Oxford, however is in the vanguard, being one of the few which has introduced a ZEZ already.
Opposition to the Zero Emissions Zone
The scheme has not met with universal approval, however. In May of this year, the Oxfordshire Green Party declared their opposition, calling it 'greenwashing'.
The spokesperson for the Oxfordshire Green Party said: "The ZEZ is not a zero-emission zone but a congestion charge zone with discounts for low emission vehicles and other vehicle classes." He went on to say that it has "little consequences for air quality" and that, "charging for access to the ZEZ is regressive, impacting on the poorest most whilst giving those with money the freedom to drive huge, polluting vehicles. All visiting vehicles should be treated equally regardless of the ability to pay."
Independent members of the City Council have also criticised the scheme. Sajjad Malik, a leading voice among independent candidates, said that the scheme would make the cost of living higher for those having to drive in the city, and favoured the well-off, because of the high cost of electric vehicles.
"It's a money-making exercise in the name of the environment." he said.
What do you think?
So are you pleased that your city is at the forefront of taking measures against pollution and climate change? Do you think it's a good idea to keep cars and vans out of the city centre, or do you think this will be yet another cost burden to hard-pressed businesses?
---
If you enjoyed this article you may also like