A guide to backpacking abroad and world-wide travel in one place
This is a brief guide to country specific, continental and world travel. It includes routes to take, general advice, and travel hacks. Information has been collated from my own experiences travelling, advice from friends who've travelled, and from individual travel blogs, Lonely Planet and National Geographic. The latter websites are excellent sources of travel information and inspiration which you could use yourself when researching.
Destination planning
The first question is: Where are you going? You need to get your priorities straight so that you aren't disappointed when you arrive. With the COVID pandemic slowing, the world is much more open to travellers – meaning we have a lot more choice.
Are you travelling on a budget? Do you want to see as many countries as possible? Have you only 'got two months, or have you got two years'? Do you want to take it slow? Are you worried about safety? Do you want to keep your carbon footprint down by travelling by plane? Meeting people? Travelling solo? Female traveller? LGBTQ+ traveller? These are all things you will want to consider when deciding on the right destination for yourself, as you don't want to feel uncomfortable and regret your decision.
Often, purchasing a Lonely Planet guide for your chosen country will help answer some of these questions for your destination, but the list below might help you to compare lots of destinations in one place.
The classic one month Interrail
Travelling Europe by train is a green and cost-efficient way to see the neighbouring continent. With the 'my interrail' pass, hassle is minimised. You can choose however many travel days you require, ranging from four to 15 days in a month, or continuous travel day passes.
If you're on a budget however, it is actually recommended to scrap the pass altogether. Individually priced bus and train tickets will most likely save you money over the pass, and give you more flexibility around which days you can travel on.
Common interrail destinations tend to be mostly cities- the classics are Amsterdam, Berlin, Munich, Prague, Krakow, Warsaw, Vienna, Budapest, Lake Bled (not a city), Bratislava, Belgrade, Sofia, Split, Dubrovnik. Travelling from West to East is an easy way to plan your route and keep distances short. There are lots of other options too, so if you want more sunshine and beaches this can be done too. You could go down the Amalfi Coast in Italy or even island hopping in Greece (by boat!), which doesn't require plane travel either.
One thing to consider with travelling around Eastern Europe in particular is the changing and volatile political situation in Ukraine. Firstly, consider your own safety and proximity to Russia and Ukraine. Secondly, it's important to understand that some countries neighbouring Ukraine will have large influxes of refugees, and therefore it might not be sensitive to treat these countries as holiday destinations. Having said this, use the GOV.UK website for tips on safety.
Two weeks in the Scottish Highlands
If you're wanting a trip focussed on fresh air, hiking and mountains, you could head to the Scottish Highlands. Most convenient would probably be by car, but the Scotrail train service and local buses and coaches can also do the job. For trains, Craig Neil says that it is cheaper to get a travel pass off the Scotrail website rather than buying lots of individual tickets, which can be costly.
The West Highland Line is a popular train journey which will take you to key hiking and backpacker hotspots.
The line starts in Glasgow, before one branch takes you to the coastal town of Oban with its historic pubs and seafood shacks, while the other takes you to the breathtaking Loch Lomond and mountain Ben Lomond.
From Loch Lomond, the line goes to Fort William where you can climb Ben Nevis, before arriving at Corrour Train Station. Corrour Train station is a scenic if not desolate spot made famous by Trainspotting (1996) – it's where Renton and the gang iconically pronounce their distain for Scotland while looking out on breathtaking mountains…we hope you choose to disagree after visiting the lakes and mountains surrounding Corrour!
From Corrour, the line takes you across the Glenfinnan Viaduct, a stunning bridge which bore the Hogwarts Express in the Harry Potter films!
The final leg of this journey takes you onto Mallaig and you can catch a ferry to the famous and northerly Isle of Skye.
If you're feeling particularly energetic you could even walk the West Highland Way, which will take you to all the same spots by foot.
You can stay in hostels through booking on Hostelworld, although they can be pricey in popular destinations. A more affordable option is simply to camp!
Why not make the most of the untamed mountains and fresh Highland air on our very doorstep? While the Highlands is not necessarily a party haven, travelling around Scotland will rejuvenate you with its clean air, highland cows, whiskey and haggis.
Two months in Central America
Central America comprises seven countries which snake between the continents of North and South America. This is an excellent trip to do in two months because you are able to visit lots of different nationalities and cultures in a short space of time as the distances between top destinations are short.
It is recommended to travel by bus. Your options are to use the more expensive shuttle busses or to take the repainted American school busses which can take you across a country for as little as $1- $2. Understand that the school busses should be approached with more caution, but on the whole we felt safe on them and they were a great way to experience the local culture.
Give yourself at least three days in each place you stay, so not to feel like you're constantly on long bus journeys. Hostels average around £10-$15 a night for a dorm. Take the recommendations of the local people, and be careful to drink water from the taps or any fruit and veg washed in tap water – you'll regret it…
This travel idea allows you to avoid any internal flying while seeing an exotic, untamed tropical landscape full of beautiful and warm people. Climb volcanoes, stay on desert islands, and experience tropical jungles. Costa Rica is home to one of the most biodiverse ecosystem in the smallest area in the WORLD.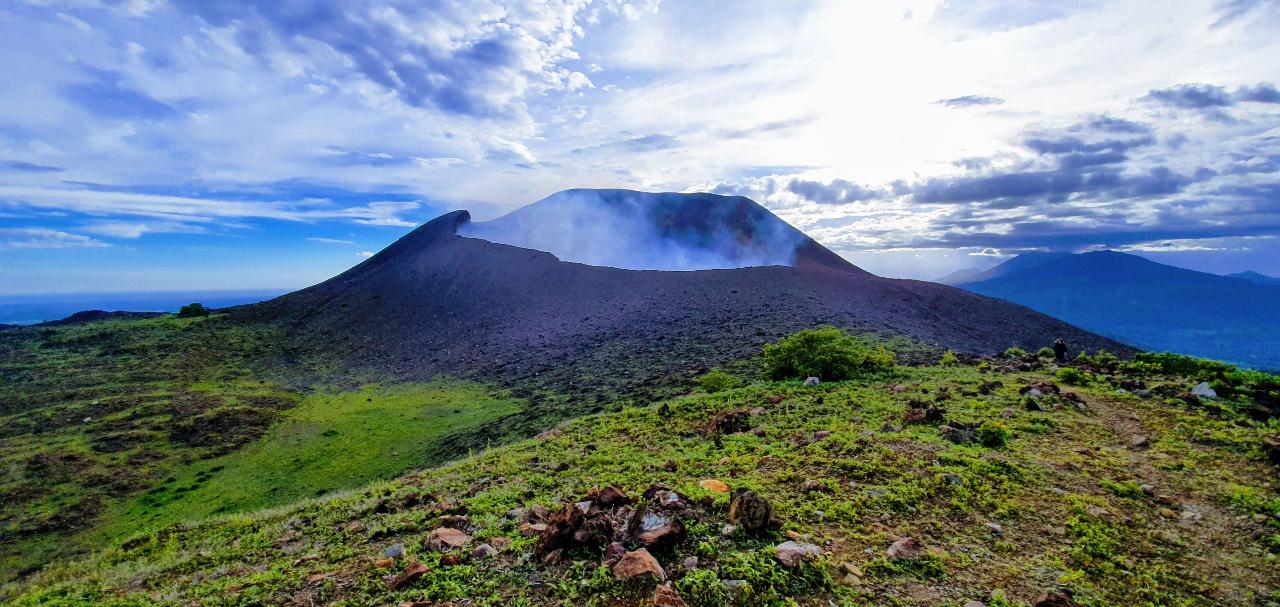 It is also worth noting that Latin America has a reputation of being unsafe due to gangs, drug trade and generally lower standards of living. While there is some truth behind this, don't let this put you off such a rich and varied destination. Use GOV.UK's website on foreign travel advice upon entering a new country to familiarise yourself with scams and risks and just use your common sense – for example, don't walk alone in a city at night or drive with informal taxi services.
Six Months in South-East Asia
South East Asia includes Brunei, Burma (Myanmar), Cambodia, Timor-Leste, Indonesia, Laos, Malaysia, the Philippines, Singapore, Thailand and Vietnam. SE Asia is another classic backpackers destination as a result of its tropical landscape and very affordable prices! A double hotel room costs less than £10 a night. An average meal costs £3, and you can imagine how good the food is. You will need longer for SE Asia as you will have to travel bigger distances, probably catching planes, so this is potentially a bigger trip than the ones above.
Top recommendations for this whole area include Pai in Thailand, El Nido in the Philippines and Hanoi in Vietnam, so be sure to look these up if you're planning for Thailand. One unmissable experience is to visit Bukit Lawang in Northern Sumatra, Indonesia, which is home to the largest sanctuary of Sumatran orangutans. Here, you can go on an Eco Travel Trek where you see orangutans, white-faced gibbons, long-tailed macaques, or, if you're lucky… a tiger!
You can take the classic 'Banana Pancake' trail which zig-zags around the region. Along this route, locals speak excellent English, and are all super friendly. This route is safe for tourists and includes a good mix of 'partying, nature and UNISECO world heritage sites'.
If you travel at a time which avoids the monsoon season and heavy rains (May- October), you will be able to do it all by minivans, buses, and the best – sleeper trains in Vietnam. Otherwise, travelling in tropical climates during wet seasons can mean you have to take measures to make your trip enjoyable and avoid dangers like hurricanes or storms. You may have to jump around a bit more – perhaps by plane – to avoid extreme weather.
However, don't be put off travelling to a country during wet season. Generally in wet season, prices are lower, sites are less overrun with tourists, the rain can be quite amazing and a nice relief from stifling temperatures, and the trees and scenery are unbelievably green and flourishing, unlike the dry season. Also – changing your route is all part of the fun.
Backpacking abroad in Bolivia
Who's to say you need to spend money on entrance taxes or learn multiple different languages, why not stay in one country?!
The National Geographic recommends spending time in one country in South America: Bolivia. Bolivia is huge and is located in an extraordinary geographical location, straddling the tropical rainforests of Amazonia in the North, the high altitudes of the Andes through the centre, and the Uyuni Salt Flat (the largest salt flats in the world!) in the South West. The city of La Paz is also the highest capital city in the world, located 3,869 metres above sea level. All sources guarantee that La Paz is a truly special place.
It is also one of the cheapest countries in South America, meaning your money will go a long way.
Top Tip: The National Geographic stresses the importance of paying extra for reputed tour companies which will use safe equipment and provide you with enough food and water when in Bolivia.
Traveller's Top Tips
Finally, a list of top tips on how to prepare before you go. Also, some advice on how to cope when you're away- although these are not exhaustive as anything could happen!
How to Prepare for Travelling before you leave:
How to get the most out of your trip while you're away:
You will miss home and 'home comforts', understand this before you commit to going. Try new foods and experiences while you're there, because you will miss it when you're back in dreary England.
Say yes to 4am wakeups and sunrise walks, they are a common way to avoid heat in some countries and allow for the most breathtaking views. 
Remember to alternate this with rest. Don't push yourself: say no to big trips and nights out if you are exhausted, you don't want to burn out. No-one can be on the go all the time. 
How to be be safe in less developed countries:
Don't let people take advantage of you, be respectful and be adventurous!
If you found this interesting, why not read our article on The best places to go and things to see in Oxford?